Welcome to Deluxe Vietnam Tours
One of Best Tour Companies for Vietnam and Cambodia..
Business License No: 0106937882
International Tour Operator License No: 01-788/2015/TCDL-GPLHQT
Deluxe Vietnam Tours Guarantees Your Trip of A Lifetime with authentic experience - Our Target: Always Working for the Next Clients Recommended by YOU - Friends and Family Recommendations. Pay Less but Get More Fun because we do not pay for any social media advertising.
One of the BEST tour companies for Vietnam and Cambodia provides luxury small group & private tours in Vietnam Cambodia Laos and Thailand. We are proud of being rated as one of the best Vietnam Travel Companies. Listen to what our clients are talking about their holidays in the following videos Customize Your Trip
Our Indian Travelers' Review Their Trip
See how our Indian tourists are doing their Thailand Cambodia Vietnam tour package with us
Why Travel With Deluxe Vietnam Tours?
We always Work for the Next clients Recommended by You
South Dakota State University did 11day study Vietnam and Cambodia Tour with Deluxe Vietnam Tours.
Click the video
Mrs. Lauren from The USA is talking about their North Vietnam tour package - 9day Hanoi Halong bay Sapa tour package.
Click the video
Our clients from The Philipines did 5day Hanoi Vietnam tour package with Ninhbinh and Halong bay. Click to know how they enjoy their Vientam trip with us
Click the video
Our clients from Singapore and Malaysia did 7day Ninhbinh Halong bay Hanoi tour package with us. Click to know how they enjoy their North Vientam tour with us
Click the video
36 travelers from Australia and New Zealand did 36 day Cambodia Vietnam tour package with us
Click the video
Excellent
4.96/5
Based on 14595 Reviews
5 star 13149 Reviews
4 star 1434 Reviews
3 star 7 Reviews
2 star 4 Reviews
1 star 1 Review
Review Your Holiday with Us
Thank you so much for sending your feedback to us. It will help us alot to create wonderful holidays
Please complete all the fields below
* required field
Deluxe Vietnam Tours' license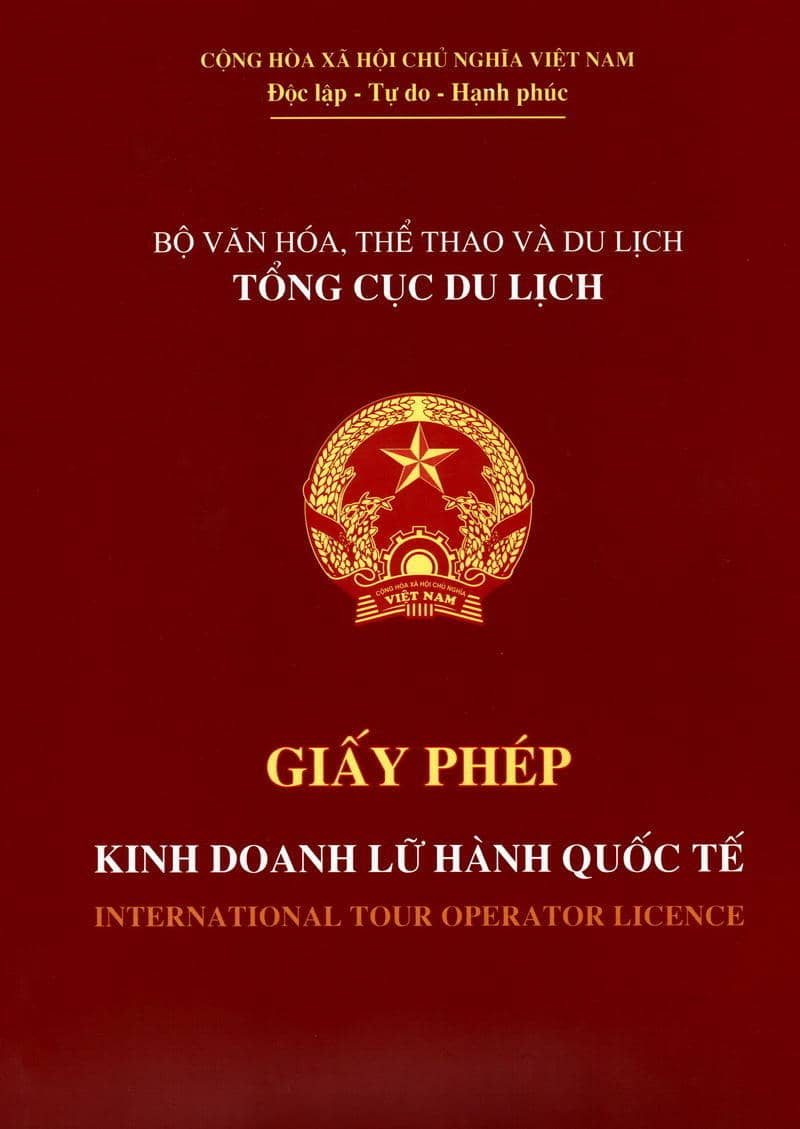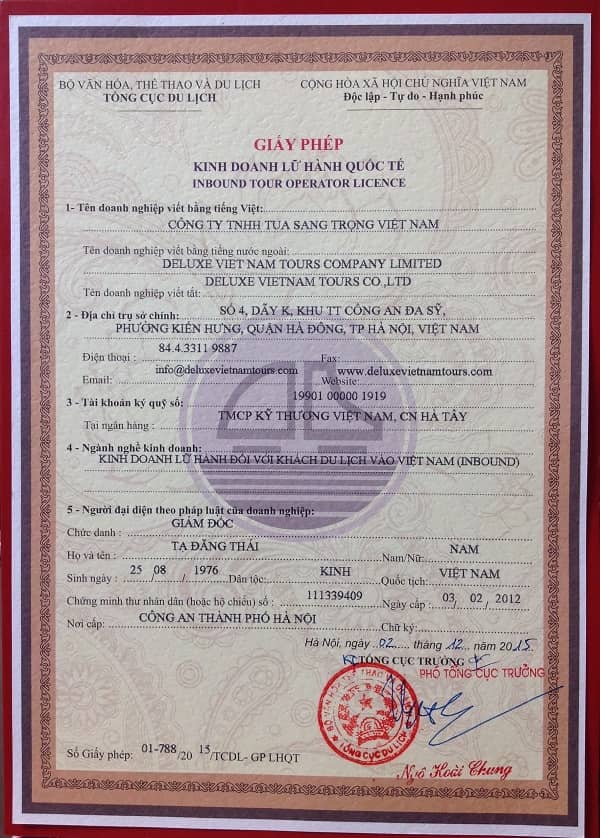 Feedback for 29 day Vietnam Cambodia Holiday with Deluxe Vietnam Tours Co.,Ltd - Best Tour Company for Vietnam and Cambodia
Amazing Experience on Vietnam Cambodia Holiday with Deluxe Vietnam Tours Co.,Ltd - Reliable Vietnam Travel Company
Lifetime experience on Vietnam and Cambodia Holiday with one of the best tour companies for Vietnam and Cambodia
British tourists reviewed their 14 day Vietnam tour package with Deluxe Vietnam Tours Company - Best Vietnam Tour Company
Listen to what she said about their North Vietnam travel package with Deluxe Vietnam Tours Co.,Ltd - Reliable Vietnam Tour Company
Unforgettable - Amazing Vietnam Cambodia Holiday with Deluxe Vietnam Tours Co.,Ltd - Best Travel Agency in Vietnam and Cambodia
Great Northern Vietnam travel package
9 Day Vietnam and Cambodia Tour

Must-visit for amazing tour Hanoi - Ninhbinh - Halong bay - Angkorwat including scooter/jeep, kayaking, cruising, boating, street food...

15 Day Cambodia and Vietnam Travel

4 world-famous Cultural & Natural UNESCO sites: Halong bay - Trangan - Hoian - Angkor Wat. Discover the best of Indochina with us for a lifetime experience
Hanoi - Halong - Hue - Hoian - Saigon

Amazing Vietnam tour Hanoi to Ho Chi Minh city with all best things to do in Vietnam. Can add Golden Bridge & Phu Quoc island

12day Vietnam Trip Package

Hanoi - Halong - Trangan - Hoian - Saigon - Mekong

North - Central - South Vietnam tour with 4 UNESCO heritage sites - can add with Golden Bridge & Phu Quoc Island

12day Vietnam Trip

Saigon - Cantho - Hoian - Halong - Hanoi

Bustling cities, amazing waterlife to stunining nature are included in the trip to Vietnam

5 Day Halong Bay - Hanoi Vietnam Tour

Charming Hanoi and amazing Halong bay UNESCO site is a great combination of a stunning nature & culture tour for a lifetime impression.

5day Hanoi trip package

7 Day Hanoi - Halong Bay - Sapa

Stunning Halong bay UNESCO site, beautiful rice terraces and mountains of Sapa & vibrant Hanoi for a lifetime experience.

7day Hanoi Vietnam Tour

6 Day North Vietnam Travel

Famous sightseeings for Hollywood films and French movies. They are all customized in this Hanoi Vietnam trip package 2023 & 2024.

5day Hanoi Vietnam trip package

7 Day Hanoi Vietnam Trip

Top destinations for family holidays with kids & elderly people at Christma & New Year are customized in Hanoi Vietnam tour 2023 & 2024. They are all friendly with kids and elderly people...

7day Hanoi Vietnam tour for Chrismas & New Year

6 Day Hanoi Vietnam Tour

Top destinations for Christma & New Year holidays are customized in Hanoi Vietnam tour 2023 & 2024. Bustling Hanoi Old Quarter - tranquit beauty of Halong bay - exotic cultures & stunning scenery of Sapa...

6day Hanoi Vietnam trip 2023 & 2024

Mr. Ta - Co-founder & Travel expert for Laos Vietnam and Cambodia tours

Mrs. Hoa - Travel Expert for Laos Thailand Cambodia and Vietnam tours

Mr. Thai - Travel expert for Laos Thailand Vietnam and Cambodia tours

Ms. Ha - Travel expert for Thailand Vietnam and Cambodia tours & Marketing manager

Deluxe Vietnam Tours' team always works for the next clients recommended by you. Your Satisfaction, Our Passion
Follow Us
Vietnam Travel Guide
Why Travel with Us
Contact Us
4 Day K TT Congan - Dasy - Hadong, Hanoi, Vietnam
+84 984819645
info@deluxevietnamtours.com
WhatsApp Call & Message